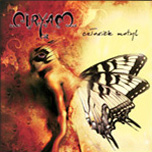 Man of butterfly (pl)
officjal album
Label: Fonografika
Recorded at:
studio Hertz – Białystok, Poland
premiere : 12 september 2008
Line-up:
vocals ; Monika Węgrzyn
guitars; Robert Węgrzyn
guitars; Grzegorz Makiel
bass; Sławomir Zajchowski
keyboards; Mateusz Sieńko
drums; Damian Jurek

Metalmania 2007
officjal album dvd / cd
Label: Metal Mind Productions
21st, particularly successful, edition of the Metalmania Festival, the biggest and the most prestigious metal festival in Central-Eastern Europe
Metalmania DVD+CD will be released on 11th February 2008 in Europe and 13th May 2008 in USA (via MVD).
Metalmania 2007 DVD includes an audio CD featuring a selection of songs by the bands that performed on the side stage of the festival (taken from their latest studio albums). British death metal band Benediction headlined the side stage and was preceded by Forever Will Burn, Root and TYR. Polish metal scene was represented by Wu-Hae, Horrorscope, Deivos, Ciryam, Carnal, Sphere and Witchking.
In the heart of the stone (pl)
officjal album
Label: TC Music/Metal Mind Productions
Recorded at:
studio Lynx Music – Kraków, Poland
premiere : may 2006
Line-up:
vocals ; Monika Węgrzyn
guitars; Robert Węgrzyn
guitars; Grzegorz Makiel
bass; Sławomir Zajchowski
keyboards; Mateusz Sieńko
drums; Damian Jurek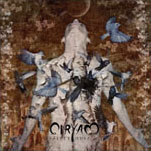 The Whispers of souls (pl)
officjal album
Label; Ars Mundi
Recorded at:
studio Lynx Music – Kraków, Poland
premiere : june 2004
Line-up:
vocals ; Monika Jasłowska
guitars; Robert Węgrzyn
guitars; Paweł Zawojski
bass; Sławomir Zajchowski
keyboards; Mateusz Sieńko
drums; Tomasz Górawski
conga, bongosy; Łukasz Król
guests: Dorota Górawska, Krzysztof Zajdel
the prayer
demo 2002
Recorded at:
studio HERTZ – Białystok, Poland
premiere: october 2002
Line-up:
vocals ; Monika Jasłowska
guitars; Robert Węgrzyn
guitars; Paweł Zawojski
bass; Tomasz Ginalski
keyboards; Leszek Konklewski
drums; Damian Jurek
conga,bongosy; Łukasz Król
the prayer (pl)
demo 2001
Recorded at:
studio Manek – Sanok, Poland
premiere: september 2001
Line-up:
vocals ; Monika Jasłowska
guitars; Robert Węgrzyn
guitars; Paweł Zawojski
bass; Rafał Walaszek
keyboards; Paweł Janas
drums; Damian Gonet